Although this blog is meant primarily to show the process of my thesis paintings, I felt this one piece of personal work was relevant enough, in a way, to post here.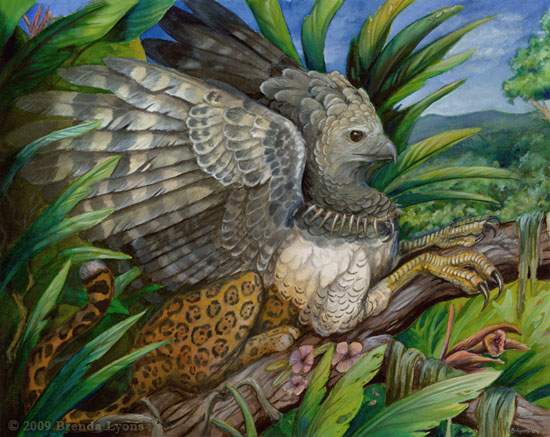 As mentioned before when posting the works in progress of the harpy eagle painting, I mentioned Kamathawa, the divine harpy eagle of Baniwa belief. Kamathawa is thought to bring summer and end the rains, and its feathers are considered to have power to those who possess them. According to
Guardians of the Cosmos: Baniwa Shamans and Prophets
by Robin M. Wright, "its predatory quality is enhanced by the title "Jaguar" Kamathawa."
This, of course, is not a portrayal of the Kamathawa of the Baniwa people, but rather an inspiration from their legends and descriptions. And, of course, the term "Jaguar Kamathawa" served as a springboard for inspiration for this particular gryphon.
This watercolor and white gouache painting is 11X14 inches on Arches cold-press watercolor paper.