We finally have an official date for our thesis exhibition! In case you missed the first post of this blog, I am having my graduate thesis exhibition with fellow illustration students
Goñi Montes
,
Heather Elder
and
Yossaya Aisiri
. We officially have a date for the opening reception and the days and hours it will run.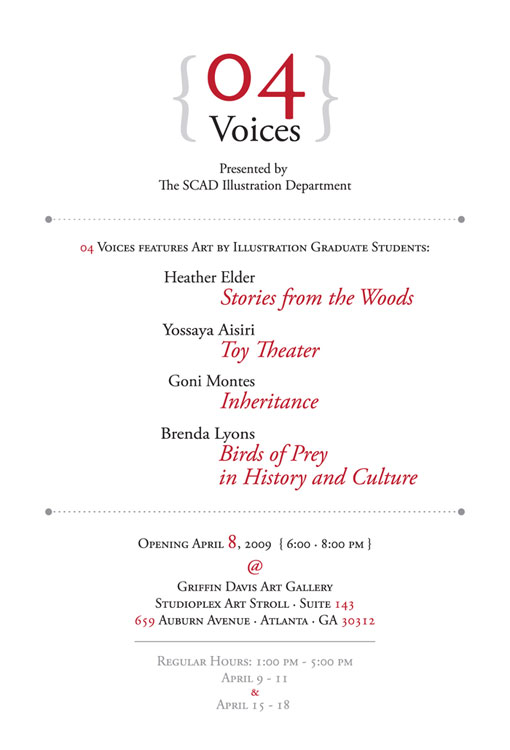 If you will be in the Atlanta area on April 8th, please stop by and come to our opening reception. It will run from 6:00 to 8:00 pm at the StudioPlex Art Center, Gallery #143, at 659 Auburn Avenue. If you can't come for the reception, the show will be open from 1:00 to 5:00 pm, April 9-11 and 15-18.
There are four sets of flyers; each has the same information as seen above on the back, but on the front, there are four sets of art that appear, each by a different artist in the exhibition. Below is the version with my work, which features my Mongolian Eagle Hunter painting. I know I said I wouldn't post them until after my thesis was complete, but since these are going to be distributed physically, I felt I could show it online: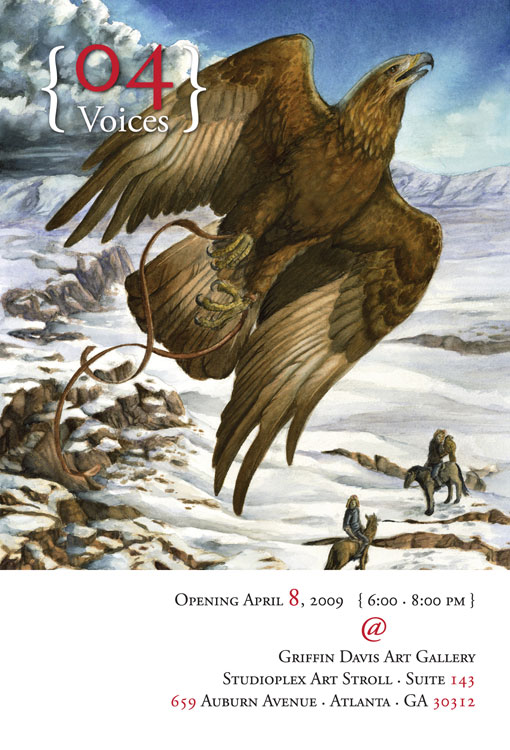 The above flyers were designed by Goñi Montes, who never ceases to amaze me with his incredible illustration and design skills. It will be an honor to share an exhibition with these three talented illustrators!