Now that I've finished with the harpy eagle, it's onto the saker falcon. I hope the experience gained from the study will help me with the plumage and form. Already I feel more confident with the forms of my falcons. It's amazing what you learn by staring at photo after photo of falcons! You begin to discover things about feather patterns, plumage, even little bits of personality that you didn't see before.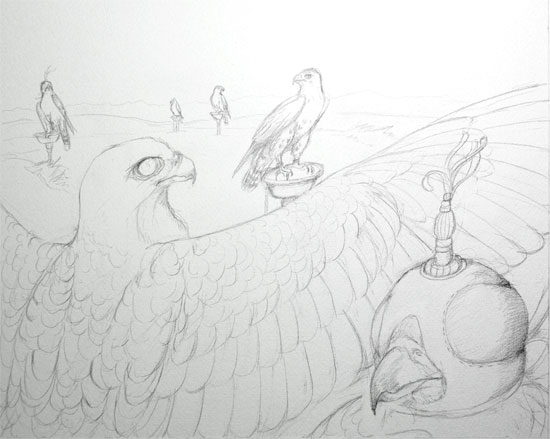 I knew essentially what I wanted to do for this painting, but the composition was giving me trouble. My professor, Rick Lovell, helped me and his suggestions helped me get to the composition I have now. At first I was hesitant to put a bird in with a hood, but then I realized this is as much about the humans in falconry as it is about the birds, and hoods, jesses, and perches are important to show the details of falconry.
Here is a quick photo of the first washes. I will be using a similar technique as I did in the study, with watercolor washes covering the entire piece to give everything a unifying tone (in this case, yellow ochre) with white gouache to give parts opacity.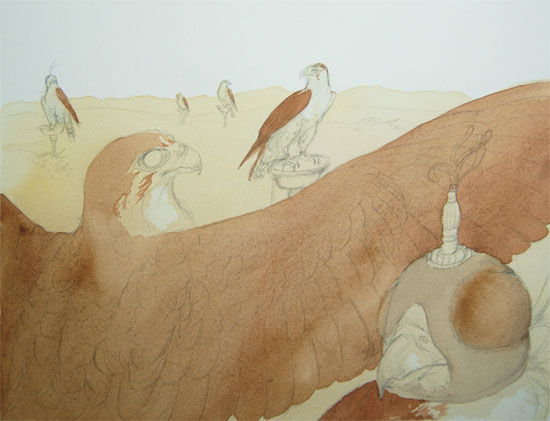 Things look a bit warped and wonky since I have to photograph the progress shots instead of scanning. This piece is 11X14 stretched on a 16X20 board, which is next to impossible to scan. The sky will be that piercing blue you get in the desert, which contrasts so nicely with the yellow-orange desert earth, and the reddish-brown plumage of the sakers.
Also, just a reminder - if you're going to be in the Atlanta area on April 8th, be sure to stop by gallery 143 at the StudioPlex at 659 Auburn Avenue, to see the opening of the Four Voices thesis illustration exhibition. More information can be seen on the cards
here
.